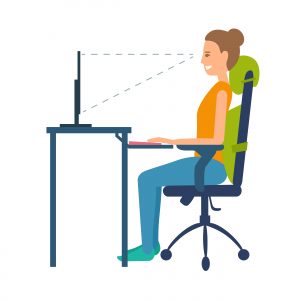 Ergonomics is the study of work. From an OSHA perspective, it is the process of designing the job to fit the employee, rather than forcing the employee's body to fit the job. This process may include modifying tasks, the work environment, and equipment to meet the specific needs of an employee to alleviate physical stress on the body and eliminate potentially disabling work related musculoskeletal disorders ("MSDs"). The overall goal is to eliminate injuries and disorders associated with the overuse of soft tissues, e.g., muscles or tendons, awkward posture, and repeated tasks. Such common injuries include carpal tunnel syndrome, tendinitis, and other sprains and strains.
As some may recall, ergonomics was a very hot topic for OSHA in the 1990s. In 2000, OSHA, which had spent a decade studying ergonomics, estimated that $1 of every $3 spent on workers' compensation stems from ergonomic issues and that the direct costs attributable to MSDs were $15 to $20 billion a year, with total annual costs upwards of $54 billion.
OSHA began an ergonomics rule-making process in 1992 and started drafting an ergonomics standard in 1995, which eventually culminated in the issuance of an Ergonomics Program Standard on November 4, 2000, which became effective on January 16, 2001. The new rule generally contained requirements for most non-construction employers to identify and abate MSDs. Not surprisingly, there was strong criticism by various industry and business groups about the new rule which focused on, among other things, mandatory compliance, cost, and tension with state workers' compensation laws. Shortly after taking office, President Bush signed Senate Joint Resolution 6 on March 20, 2001, which repealed the new standard.
Since the repeal, OSHA has addressed ergonomics in a number of ways including issuing Guidelines for various industries. OSHA Guidelines contain recommendations, best practices and lessons learned for specific industries. In other words, Guidelines are advisory and do not create new employer obligations. These Guidelines include such industries as retail grocery stores, shipyards, nursing homes, foundries, beverage distribution, poultry processing, and meatpacking plants. They are available at https://www.osha.gov/SLTC/ergonomics/controlhazards.html#guidelines.
More recent data in 2013 from the Bureau of Labor Statistics' ("BLS") shows that ergonomics remains a costly issue for businesses. BLS data shows that these types of injuries account for one-third of days-away-from-work cases. The BLS data further explains that employees suffering from ergonomics-related injuries required more time off the job than those with other types of workplace injuries and illnesses (a median of 11 days versus eight days).
OSHA has also made clear that even in the absence of a specific industry Guideline, employers can still be cited for a violation of the General Duty Clause, Section 5(a)(1), which generally requires employers to keep workplaces free from recognized serious hazards including ergonomic hazards. In deciding whether a General Duty citation should be issued with respect to ergonomics, OSHA will review the following factors: (1) whether an ergonomic hazard exists; (2) whether that hazard is recognized; (3) whether the hazard is causing, or likely to cause, serious physical harm to employees; and (4) whether a feasible means exists to reduce the hazard. OSHA has also specifically noted that it will not focus on enforcement efforts against employers who are making a good faith effort to reduce ergonomic hazards.
Thus, all employers but specifically those in high-risk industries such as construction, food processing, firefighting, office jobs, healthcare, transportation, and warehousing should consider implementing an ergonomic process. Accordingly to OSHA, an effective process should include:
Management Support. Management should define clear goals and objectives, discuss them with employees, assign responsibilities to designated employees and hold them accountable, and clearly communicate the process with employees.
Involve Employees. Directly involve employees in worksite assessments, solution development, and abatement strategies.
Identify Problems. Assess ergonomic problems in the workplace before they result in MSDs.
Early Reporting. Encourage employees and set up a defined process to report MSD symptoms as early as possible.
Implement Solutions to Control Hazards. Review, analyze, and determine the best solution to reduce, control, and eliminate workplace MSDs.
Evaluate Progress. Establish procedures to assess effectiveness of the ergonomic process to ensure its continued improvement and making modifications, as necessary.
If the business has a safety committee, it would also be prudent to ensure the safety committee discusses ergonomics on a periodic basis. General workplace safety and health policies should also address ergonomics.
OSHA continues to address ergonomics on an industry specific basis and often within the scope of broader recognized hazards. For example, on January 15, 2014, OSHA launched a new online resource to address worker safety in hospitals where it stated that the hospital is one of the most dangerous places to work, as employees can face numerous serious hazards from lifting and moving patients to exposure to chemical hazards and infectious diseases.
There are many yet unanswered questions on how the new administration will affect various federal agencies including OSHA. Historically, a Republican administration usually means increased focus on compliance assistance rather than enforcement. Workplace safety in general was not a platform issue for the Trump administration so it is unlikely that OSHA would be more aggressive in the area of ergonomics than it has. Surprisingly, the current White House budget proposal for OSHA remains relatively intact. The White House recommended $543.3 million for OSHA, down about 2 percent from the $552.8 million funding level in fiscal 2017. However, the White House budget proposal did call for adding approximately 16 compliance assistance specialists, so the anticipated shift towards compliance rather than enforcement looks to be true.
Regardless of OSHA's ergonomics enforcement efforts in the coming years, ergonomics will remain a costly issue for businesses that elect to ignore it. Addressing ergonomics does not necessarily require a significant financial expenditure but rather with strong management commitment, appropriate policies and procedures, and training, businesses can help ensure their workers avoid injuries and thus the costs associated with the loss of employee productivity and time away from work due to injury. Plus, if OSHA does come knocking, these demonstrated efforts should help a business fend off any potential ergonomics related General Duty citation.