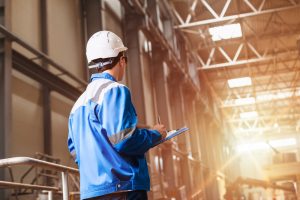 Congress granted the Secretary of Labor the authority to enter places of employment to conduct safety and health inspections. The OSH Act provides that such inspections must take place at reasonable times, within reasonable limits and in a reasonable manner and that they may include inspection of relevant conditions, structures and other equipment. For a general description of the inspection process, OSHA has published a Fact Sheet which is available here.
As the Fact Sheet indicates, it is also well-established that an employer may generally request a search warrant before allowing an OSHA inspector into the worksite. There are limited exceptions to the warrant requirement which include 1) consent by the employer 2) authorized third party consent such as consent provided by a general contractor at the worksite 3) emergency situations if there is a compelling need for official action and no time to secure a warrant and 4) if the conditions are in plain view of the public or inspectors while they are lawfully on the employer's premises.
Just because an employer has the right to insist on a search warrant does not necessarily mean it should require one. This determination is a fact-sensitive inquiry that should be done in consultation with counsel. More often than not, it is better to allow entry when the employer has prepared in advance for an OSHA inspection which are almost always conducted without notice. The appropriate steps an employer needs to take to prepare for an unplanned OSHA inspection may turn on a number of factors including its industry, size, personnel available at the worksite and prior safety and health record. However, such preparation will always include designating an appropriate company representative who is adequately trained on the proper protocols to follow including contacting counsel as soon as possible. A properly trained company representative will, for example, negotiate the scope of the inspection, ask about the purpose of the inspection, accompany the inspector on walk around and take the same photographs the inspector may take. The best practice is to have a written script the company representative will follow that provides Q&A on common issues associated with OSHA inspections.